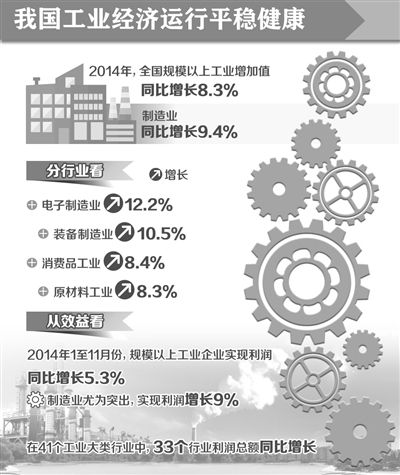 In 2014, the country's industrial output increased 8.3% year on year. Although growth year-on-year fall, on the base of large, the growth is particularly difficult. More happily, last year, China's industrial economy towards a more advanced form, the structure of the division of labor is more complex, more reasonable direction to accelerate the evolution —
On January 27th the scio conference, the ministry, according to the data published in 2014, the national industrial output rose 8.3%, and the data about 9.7% in 2013. "China's industrial growth is from high speed to high speed." Ministry vice-minister Mao Weiming, said outside the growth, want to see China's industrial economy towards a more advanced form, the structure of the division of labor is more complex, more reasonable direction to accelerate the evolution, the power of economy running smoothly in the normal and orderly transformation.
"Industrial output growth in 2015, the ministry set is 8%, the target is still not low." Ministry of operation monitoring and coordination bureau deputy director li-bing huang answer economic daily reporters' questions, at present, the economic development of our country enters the new normal, growth speed change gear, structure adjustment pains, momentum transformation, to accomplish this goal is still need to make arduous efforts.
The people's livelihood investment growth is bigger
In 2014, our country industrial investment of 20.45 trillion yuan, the growth rate fell 4.9% year-on-year.
Among them, state support to encourage the development of the industry, and related industry investment growth to maintain a higher level of the people's livelihood, food manufacturing investment grew 22% year-on-year, railway, shipbuilding, aerospace and other transportation equipment manufacturing industry investment growth 16.1%, pharmaceutical manufacturing investment growth of 15.1%. And some industries with excess capacity investment growth down obviously, black metal smelting and rolling processing industry investment fell by 5.9%, non-ferrous metal smelting and rolling processing industry investment rose only 4.1%. "This suggests that internal industrial structure in China had a positive change." Mao Wei confessed.
The change of the industrial investment effect is obvious. In 2014, China's new energy vehicle production 2014 vehicles, an increase of nearly 4 times. Tiotrussyllani ip tech info Software and information technology services, industrial design, modern logistics and other producer services continue to rapid development, promote the industrial structure upgrade. up or down Instead, iron and steel, electrolytic aluminum, cement, plate glass and so on need to adjust and compression of industry production growth is apparent. In 2014, crude steel, cement, plate glass production rose only 0.9%, 0.9% and 1.8% respectively, compared to the same growth year-on-year fall in more than 5%; Ten kinds of non-ferrous metal production rose only 7.2%, down 2.7% year-on-year.
At the same time, the power industry development in our country from traditional growth point to the new growth point, the traditional industry high-end reform constantly, the emerging industry to maintain good development momentum. In 2014, our country in the super computer, million kilowatt nuclear power equipment, large aircraft made new breakthrough, the added value of high-tech manufacturing year-on-year growth of 12.3%, accounting for up to 12.8% of the total value added of the manufacturing. Cavour . best domain name sites buying web domain domster Among them, the added value of the equipment manufacturing industry and electronic manufacturing growth reached 10% and 10% respectively.
"Has for many years in China's first big global manufacturing, on such a large base, can still achieve that fast growth, is not easy." Mao Wei confessed.
Industrial information fusion depth
Mao Weiming said, at present the Internet of things and Internet has been developing rapidly, the next step to deepen the industry and the integration of the Internet, and implementation of intelligent manufacturing pilot demonstration special action.
It was reported that in 2014 China's Internet sales revenue of 600 billion yuan, more than 30% growth. Internet of things in our country comprehensive growth above 30% in recent years, sensors, radio frequency technology, td-scdma LTE, chip design manufacture and so on great breakthrough in technology, in areas such as industry, environmental protection, transportation and people's livelihood service gradually form large-scale application, business model gradually mature.
"Mobile phone is undoubtedly intelligent terminals, car is walking on the road in the future intelligent terminal." Mao Weiming so metaphor said, at present, China's Internet users has reached 9 million, growth continues to renovation.
In industry under the impetus of the new technology, such as the Internet, depth of industrialization and information fusion has obvious effect in our country, based on the Internet on the basis of new forms and new business models are created, based on the information progress of transform and upgrade traditional industries, based on the software and information services, cloud computing and big data under the new forms of productive service industry has been rapid development.
In 2014, the proportion of service industry in the three industry again more than industry, become the main constitution of economic development, the information consumption has contributed a lot in it. Ministry of industry, according to data released in 2014, China has reached 2.8 trillion yuan, the scale of information consumption increased by 18%; E-commerce transactions of about 12 trillion yuan, an increase of 20%.
"Information consumption promoting the development of relevant industries 1.2 trillion yuan, the contribution to GDP by about 0.8%, thus the producer services is also two fusion results manifests." Mao Wei confessed.
Public enterprises listing
The ministry spokesman, running monitoring coordination bureau chief lisa zheng answered questions from the economic daily journalist, said the ministry is pushing the central departments and regional administrative examination and approval lead fee list released as soon as possible, to establish the national enterprises charging project library, and more to list outside of exposure and investigation dynamics.
In 2014, issued by the general office of the state council on further strengthening enterprises notice fees management to reduce the financial burden of the enterprise, the most prominent is the by charging listing system to standardize enterprises, in Mao Weiming's words: "list within listing do subtraction, zero charge.
Not only that, localities and departments charging projects without authorization permissions were canceled, regularization of pre service charge of administrative examination and approval, at the source specification of intermediary fees related to administrative examination and approval.
According to introducing, at present enterprises listing system gradually established, the national and regional enterprises administrative fees and government funds listing has been released, and publication of the normalized system is established.
Clear specification enterprises has achieved obvious results. According to statistics, the general tax every year for the enterprise and residents to ease the burden of more than 400 one hundred million yuan, the provinces to cancel project, stop, derate enterprises charges, each year for the burden on enterprises and residents by 100 billion yuan of above.
"The ministry of construction also has covered more than 3000 enterprises of the country's investigation to reduce the financial burden of enterprise information platform, in a timely manner to understand the change of the burden of enterprises, and the establishment of a national and provincial enterprise reporting and supervisory system." Lisa zheng said. (source/economic journal, article/huang xin, recommend/WenPing, edit/hong-wei li)